As from this month (April 2004) I have been asked if I would take on the position of Endurance Great Britain Team Farrier for the forthcoming season..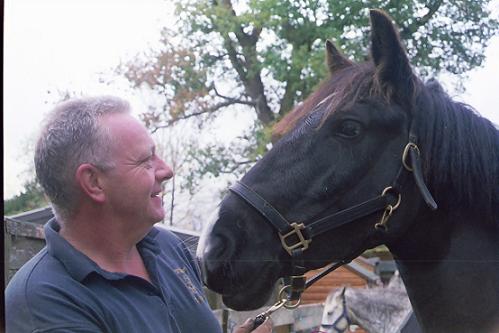 Often asked if I enjoy working with horses
think this picture may hold an answer>>>
One of my interest's is shoeing Dressage Horse's having spent one week a month in Germany for the past couple of years, shoeing some of the top dressage horses in Europe.
However Laminits is my main concern.In November 2003 I attended the second Laminits and Equine Foot Disease conference in Miami Florida an event that I can say was very educational.
* Experience: 24 years experience shoeing all types of horses,in Europe and the U.S.A.

* Philosophy: "If at first you don't succeed, skydiving's not for you."

* Hobbies:computers, horses,fast cars
"shoeing for balance and performance"